I don't mean our brave troops who have given all for our Nation, but the number of islamofacist scumbags who we've sent to Allah.
< ?php if (function_exists('dead_badguys')) dead_badguys(); else include_once("t_kills.php"); ?>
The little graphic shows the number of confirmed kills since al-Zarqawi assumed room temperature June 7, 2006. I garnered these numbers from official news releases from Iraq and Afghanistan, with some reports coming from other sources such as AP and Reuters. They DO NOT represent the actual number of nutjobs who have "vanished in a hail of lead and shrapnel." Unfortunately, the reports of terrorist deaths are almost non-existent on purpose.
There is a very good article that is part of the Citizens Report on Iraq produced by members of FreeRepublic.com in which Prof. Larry Schweikart explains the lack of reportage and also extrapolates from various sources that the real number is somewhere above 150,000 since the beginning of the war. See the .pdf file and look for his article starting on page 56.
What is different today is that more and more numbers are actually being reported since the "surge" strategy started. There was a real drought since the beginning of the year, but the numbers are rising rapidly now. OORAH!
If you'd like to see where the reports are, look here.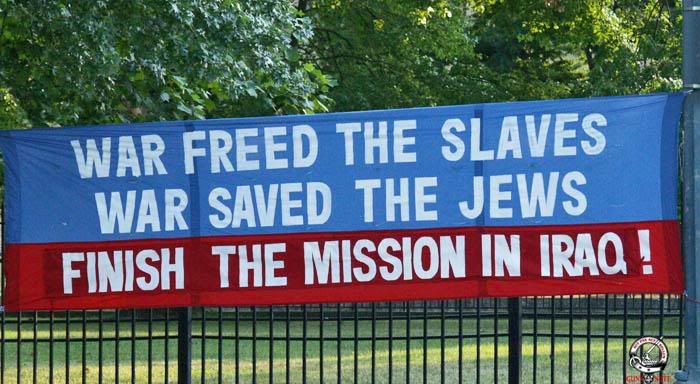 This is one of the awesome banners from out front of Walter Reed that FReepers set up on Friday nights.