There may well have been more of us than them. The "10s of thousands" of America hating commies turned out to be around 2000 by most guestimates. There were easily that many leather-jacketed veterans. What a sight to behold!
Naturally, I got very few good pics… I didn't have a memory card in my camera until late in the day. DOH! what an idiot!!!!! Anyway, my story will pick up where the moonbats leave their hippie ghetto and start marching towards Memorial Bridge.
The "Good Guys" weren't allowed to stand on the bridge which had been closed to traffic. Seems we didn't have a permit for the bridge so we lined the road approaching it and both sides of the entrance. There were many, many more people who had crossed the bridge earlier to stand and taunt the commies on the Arlington Cemetary side.

Standing in the middle of the Memorial Bridge looking towards the Lincoln Memorial
I wish I could have gotten an aerial view 'cause there wasn't anyplace to take a pic that showed all of the veterans and troop supporters. This is just a fraction of the people that lined the roadway waiting for the scumbags to prance by.
The hippies started across with just a dribble. They seemed genuinely intimidated by the throngs of angry veterans who shouted "Traitor!" and other less savory messages.
This young head full of mush got one veteran pretty riled up.
The veteran responding with "Give me a kiss right here!".
Here are some assorted asshats and traitors and smelly unwashed hippies.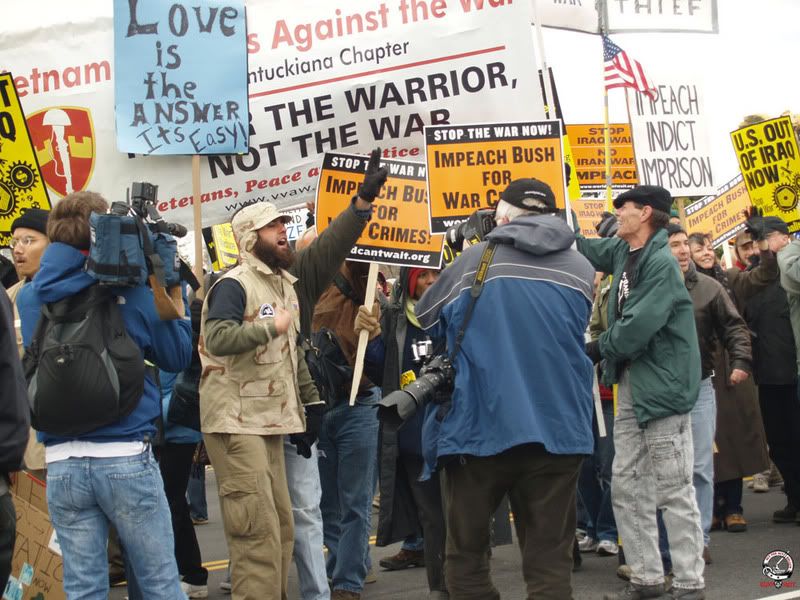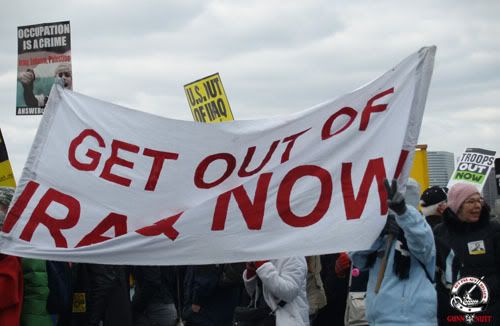 They just have to drag a coffin around at these blood fests. I hope the asshole dragging this one is haunted day and night by the brave Marine whose photo he plastered on the side of it!!!!
Update: Carrie emailed a link to this article from MilitaryTimes.com which sheds some light on the terribly deranged father of the deceased Marine. WARNING – you may need some Pepto after reading it.
Thank you Lcpl Alexander Arredondo for being an OUTSTANDING AMERICAN!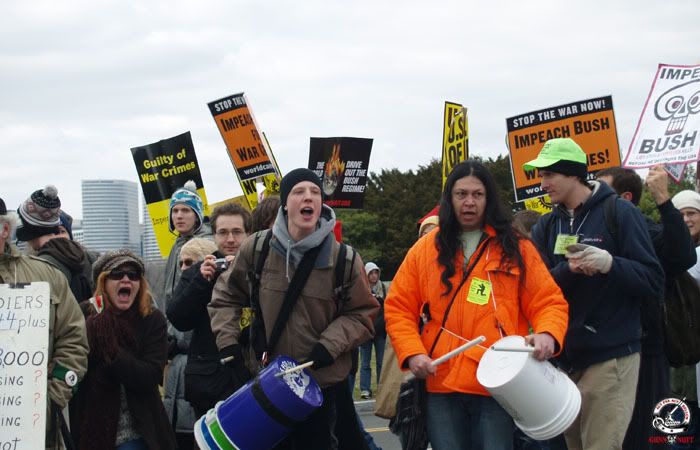 And then there was this merry little band of patriots!

Leta, SammyD, Maj Pain, Taco Mamma, Danang68, and somebody else.
See Michelle Malkin's post, Gathering of Eagles–30,000 strong , for great commentary and links to all of the coverage from the New Media!
I had to snag this pic from Right on the Right. It kicks ass!